1951
A miraculous birth of design
It was just six years after the end of WWII that the chair Lady—the result of a collaboration between members of world-renowned Italian tire maker Pirelli and then-unknown designer Marco Zanuso—captured a gold medal at Milan's Triennale art exhibition. Debuting in an era when furniture was typically made of wood and other natural materials like straw, kapok, and horse hair, Lady revolutionized furniture making with the use of the artificial materials foam rubber and elastic tape. This innovative creation marked arflex's first step into the world.
milestone products

LADY
arflex's first commercial model, this chair electrified the furniture making world with its free-flowing contours.

FIORENZA
Designed by Franco Albini and hailed as the "immortal armchair," this personal sofa sensationally demonstrated the potential of foam rubber, then a revolutionary material.

MARTINGALA
In Italian, martingala refers to a short belt attached to the back of a coat. In addition to adding an elegant touch, this chair's belt functioned as the release for removing the cover.
1967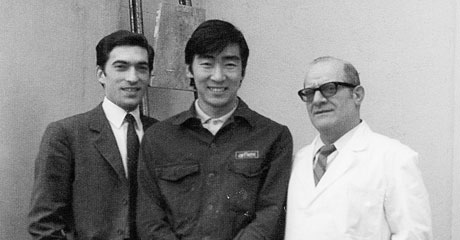 Studying in Italy, gaining life-changing experiences
Before founding Arflex Japan, Tadashi Hoshina looked at his rapidly growing homeland and saw that it needed something special other than clothing accessories—and so he set off for Italy on a quest for that "something." While roaming around Milan, he came across furniture in a display window that instantly filled his mind with a vision for modern life in Japan. He turned to arflex to study the art of furniture making, the sleek sensibility of the Italian lifestyle, and the true wealth that comes from cherishing everyday things and moments. With these new insights in hand he returned home to bring a new vision for life in Japan.
milestone products

FOURLINE
The embodiment of Marco Zanuso's simple philosophy that it only takes four lines or curves to make a chair, this 1964 Triennale gold medalist was prominently displayed on the cover of architecture and design journal Domus.

WOODLINE
A bold experiment by Zanuso to match a bentwood frame to the cushioning, this chair displays a distinctively Scandinavian, modernistic design.

ELETTRA
Created by the design team B.B.P.R. as an office design, this was the earliest Italian-designed furniture for use in public spaces.
1969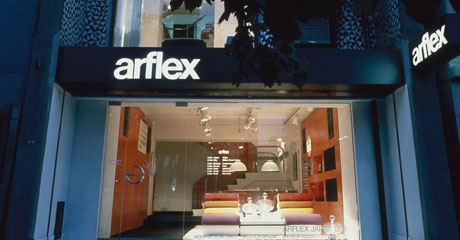 Dreaming of a modern life for Japan
Back in Japan, Tadashi Hoshina launches Arflex Japan. In addition to selling imports from Italy, the company begins developing products tailored to Japanese culture and settings, including original creations and modifications of imported designs. This was a time when Japanese homes—in glaring contrast with the booming economy—were derided as "rabbit coops." Hoshina saw that the outmoded home environment needed a new direction in furniture, not reincarnations of the traditional Japanese-style chests and tables. Invoking the sensibilities he learned from Italian furniture designs focused on streamlined comfort, he offered products for a truly modern lifestyle.
milestone products

MODEL7
One of the characteristic designs of the company's early days, this was the first large molded urethane foam sofa to hit Japan's market, and was chosen by many consumers to help create their modern living rooms.

MODEL9
The brainchild of Tito Agnoli, this innovative design incorporated four different units that could be placed in inward or outward configurations, and was formed from molded urethane foam. It quickly became a smash hit.

BOBO
Cini Boeri completely did away with the frame, springs, and screws in this unique design—one that defied easy localization of production in Japan. The iconic fabric covering caused a stir when the sofa made its debut.
1970s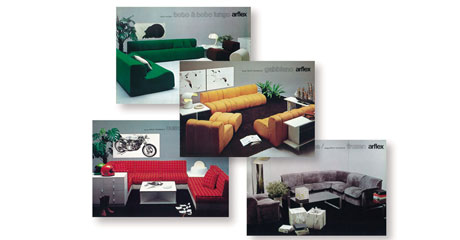 Shifting the focus from the drawing room to everyday family life
arflex dramatically revolutionized the Japanese home with what now seems an obvious choice—putting the sofa in the living room. Back then, the sofa was quietly confined to the drawing room, reserved for guests only. However, arflex showed that it could be a focus of family relaxation by bringing it into the living room. This simple change set in motion the modern Japanese lifestyle.
milestone products

MARENCO
The consummate simplicity of its design is big reason why the Marenco has long been a perennial favorite of those living the modern lifestyle. The covering system was developed in Japan and exported back to the sofa's homeland of Italy.

BENGODI
The Italian name of this sofa connotes "paradise," underscoring its luxury design. This model sports a Japanese innovation—the addition of knobs to the rear base to make assembly and disassembly easier for the Japanese housing environment.

STRIPS
This unique design features quilted covers with zippers for easy removal, while offering a wonderful blend of functionality and whimsy that only female designer Cini Boeri can provide. One of the winners of the 1979 Compasso d'Oro.
1980s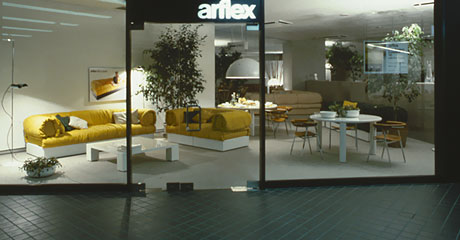 Relocation to Axis Building, a growing lineup of original creations
Arflex Japan moved to Axis Building—famed as a hub of creative design—in Tokyo's trendy Roppongi district. The distinctive shop interior was conceived by Cini Boeri. The year 1986 marked the debut of A-Sofa, whose perpetual popularity attests to arflex's astute understanding of Japanese lifestyles. Offering soft cushioning and a design that perfectly matches simple interiors, this sofa incorporates the structural elements and workings necessary for many years of comfortable use—an aim that still guides arflex furniture-making today.
milestone products

A・SOFA
Featuring a sturdy frame lavishly covered with soft feather cushions, this model has delighted many with its simplicity, gentle feel, and roominess. Over the years, the fabric covering has changed to suit changing fashion and tastes—another reason why this sofa remains popular to this day.

NT
Composed solely of wood and leather, this novel design by Motomi Kawakami completely rests the body on nothing but leather webbing. Winner of the Good Design Award and Long Life Design Award in 2009.

NEO CUSCINI
Make the base sturdy, but let the cushions play free—this is the concept behind the Neo Cuscini. The molding boasts a 10-year warranty, and the covering also stands on years of craftsmanship.
1987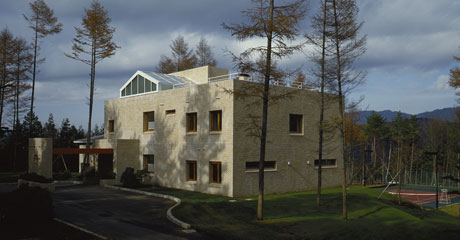 casa mia kawaguchi-ko opens
Nestled in the woods at the foot of Mt. Fuji, casa mia kawaguchi-ko embodies the arflex vision in its expansive showroom and three model houses. We present diverse ideas for your home not in the form of separate pieces of furniture, but as a total living space. Over the years, the arflex lineup expanded from its original focus on sofas to include dining room and bedroom furniture as well, so visitors to casa mia kawaguchi-ko will encounter all sorts of ideas for their entire home.
milestone products

FK
The range of offerings surged in the 1980s with the addition of dining room and bedroom items. Though a simple shell-and-frame design, the FK provides cozy comfort with its snug contours.

KO
Like the FK, the KO was created for the dining room, but in contrast with the FK's homey feel, it was designed more for commercial establishments in the heady days of Japan's 1980s economic boom.

ANDREJ
Part of the Luna Park collection of beds and bedding inspired by arflex's reimagining of the bedroom. A playful approach to excellent interior design.
1990s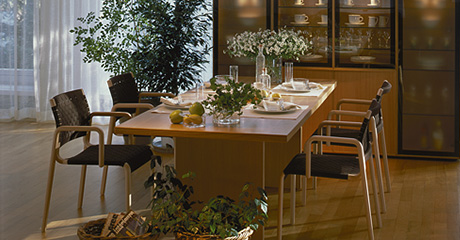 Responding to a new need: total coordination
The wood veneers and finishes of furniture used to be designed differently for each product category—chairs, beds, chests and so on. In the 1990s, arflex, foreseeing the trend toward merging the living room and dining room, integrated the design of furniture surfacing, making it easier to impart a sense of unity to interiors. This contribution helped to introduce the public to the pleasure of coordinating their interior choices.
milestone products

COMPOSER
The expansion of the product lineup to encompass the entire home included the Composer series of storage furniture, which provided functionality while adding accents to the wall spaces of each room—and helped to build arflex's contemporary vision of the world.

KU
During the 1990s arflex further increased its dining room lineup, including with the KU. This chair became a hit for offering a sensuality not seen before in arflex products.

TAVOLO NAVE
Featuring a keel-shaped tabletop on exquisitely rounded legs, Tavolo Nave became the long-reigning No. 1 of arflex dining tables.
1997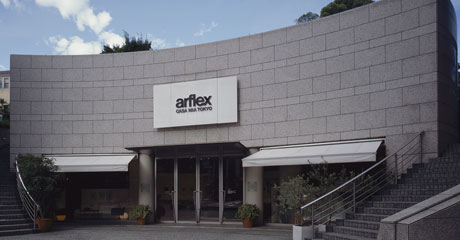 arflex's directly operated store moves to Ebisu Prime Square
The new location provided a larger, naturally lit showroom for presenting arflex furniture not as disconnected products, but as integral elements of total concepts for the living room, dining room, and other parts of the home. Like Casa Mia, this shop was conceived to go beyond simply displaying "things" and provide visitors with ideas for enriching their lives. As such, it represents a further evolution of the lifestyle shop.
milestone products

A・SOFA HOLIDAYS
Incorporating water buffalo leather weaving into the frame, the Holidays series quickly attracted a large following with its expansive style.

TINA
Tina took the simple concept of the NT and added a more modern, warm touch. This model demonstrated arflex's flexibility to adapt to the changing tastes of changing times.

QUADRA
Combining the unpretentious simplicity of a square base with a variety of cushions that gently embrace the body, Quadra took a different approach to the same concept behind A-Sofa.
2000s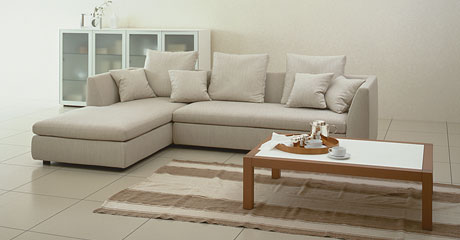 The rise of the chaise longue as the epitome of relaxation
The chaise longue created a new dimension of relaxation by providing comfortable support to the legs not with an ottoman, but with an extension of the sofa itself. Coming at a time when large-screen TVs and home theaters were becoming more commonplace, the roomy, soothing chaise longue helped to build the era of family fun centered around large-scale entertainment systems.
milestone products

CASCATA
The prototype that set the pace for all chaise longues to follow, Cascata creates roomy relaxation with its free and easy flat seats supported by a water buffalo leather-woven frame.
VASCA
This sofa took a novel approach to comfort by rounding off sharp edges to allow users to rest in the position best suited to them. The large seats brought a wider range of possibilities for sofa relaxation.

VAKNA
Taking snug comfort as its overarching goal, Vakna reconfigured the bed for a much more restful sleep. This model was complemented with an original mattress and other highly functional accessories.
2003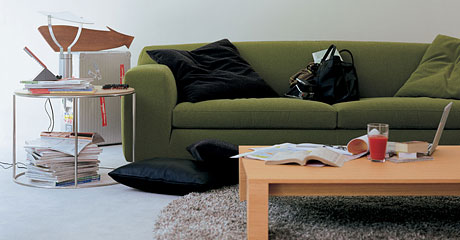 Shifting from total to select
As consumer interest in interior design grew and matured, people began demanding greater individuality in furniture, prompting the debut of models that were simple yet breathed with distinctive proportions and details. And so a shift was made from standard models to free styles, and from total design to select, ushering in a diverse set of new products.
milestone products

REKTA
Rekta imparts a stylish touch to the dining area with its sophisticated wood-grain finish and stately legs. Its combination with the Shin chair created a special era.

SHIN
A chair whose back height matches the table it was paired with, Shin helped to define a unified dining space. The lithe frame sheds needless weight without sacrificing strength.

UNO DI NOI
Featuring a strikingly low center of gravity with roomy seating for a greater at-home feel, Uno Di Noi minimized height to allow easy access from any corner.
2010s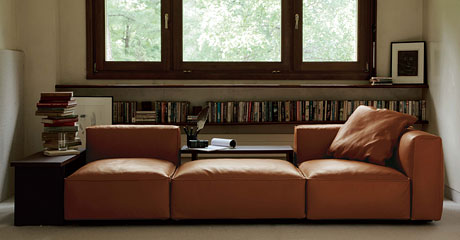 Furniture as a sustainable tool
This decade has brought stronger emphasis on spending time at home, and a shift toward selection based more on one's personal values than on price and brand. At the same time, our customers have increasingly expressed the desire to continue using their cherished arflex products for many years. In response, we have made sustainability an even bigger consideration in the design process, creating many new products that offer greater ease of maintenance to ensure many years of satisfaction for their owners.
milestone products

RINN
A lithe frame rests your body on a supple seat cover that is very easy to remove and reattach, yet firmly stays in place when in use. Rinn brought new possibilities to the chair.

GALE
Designed to be the "world's most comfortable sofa," Gale makes lavish use of the finest feathers to provide blissful relaxation. This model also served to demonstrate a new approach to maintenance that leverages the resilience of natural materials.

VELATO
A trim, lightsome sofa that strikes a perfect balance in terms of design, size, functionality, and price. Velato has become a choice that new customers can select for new places.
2013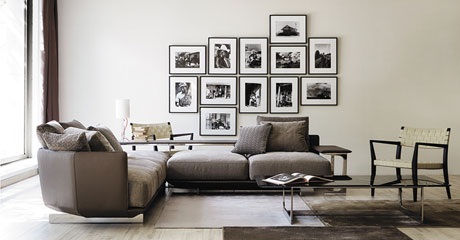 The evolving living room
As the times have changed, so has the way the living room is used. Now that digital devices have become an integral part of daily life, the living room is evolving from a space for TV-centered family relaxation into a room for personal fun. Sofas offering customizable configurations cater to this shift by providing a comfortable space where people can be together but pursue their own pastimes. And, these sofas themselves are changing the way we spend our time at home.
milestone products

OLTANO
Made up of four freely rearrangeable units, this unique sofa allows you to create your own layouts for new styles of communication and interaction. Oltano has also demonstrated the new direction being taken by the living room.

MIO
The addition of a peninsula—a table section without arms or seatbacks—to this sofa offers diverse modes of relaxation and interaction depending on how you configure the layout and connect it with the surroundings. And, it can help you to add an extra dimension to your living room.

MERCADO
This freestyle sofa, with its simple, armless design, achieves an open layout that can be placed in any orientation to suit your tastes. It also can be used to connect one space to another.
2019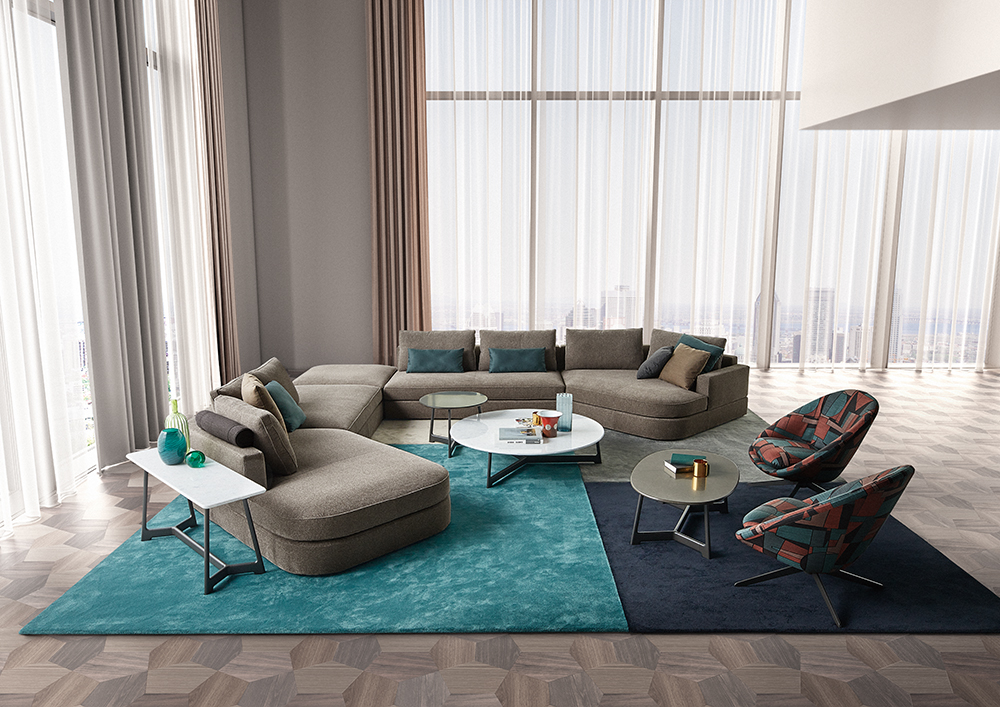 Celebrating the 50th anniversary of establishment
With the promotion of remote work and the diversification of work styles, the way of thinking about interiors has changed significantly. The line between public and private has become vague, and demand for offices that are as relaxing as homes and lounge spaces that enable open communication has increased. With the idea of ​​manufacturing that has not changed since our founding and flexible ideas according to the times, we will move forward to the next 50 years.
milestone products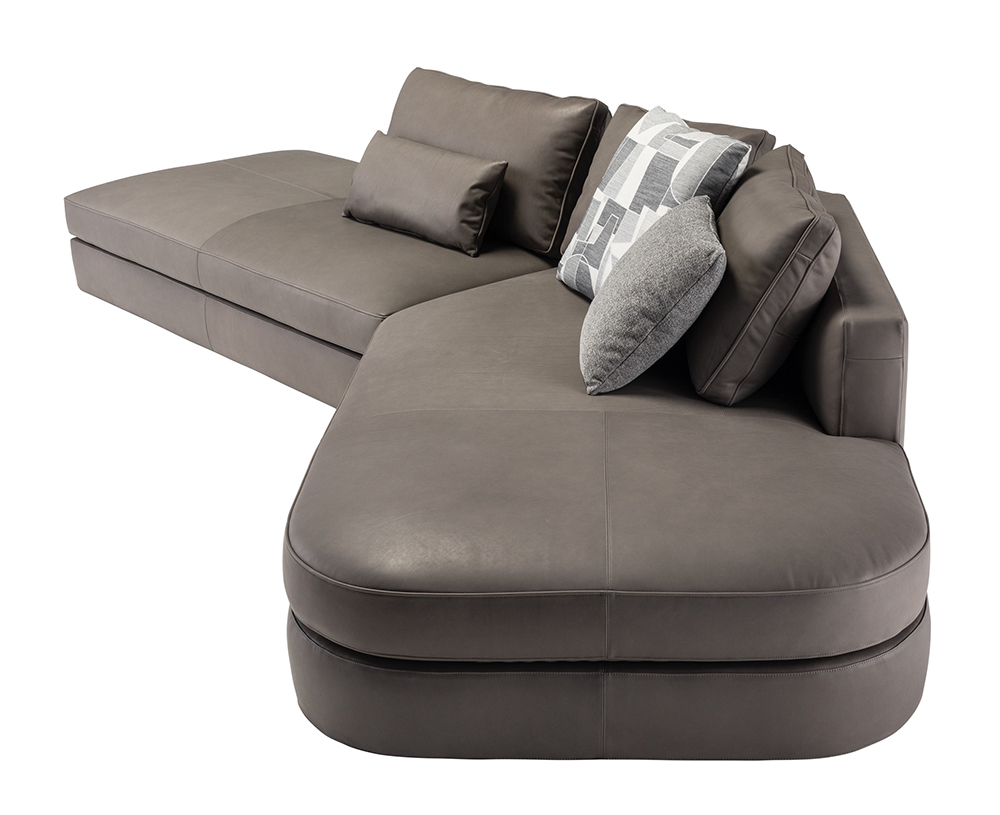 MILAN
The angle unit that creates an angle that is neither straight nor L-shaped creates a lively living space. Easy to lay out for deformed floor plans of high-rise condominiums.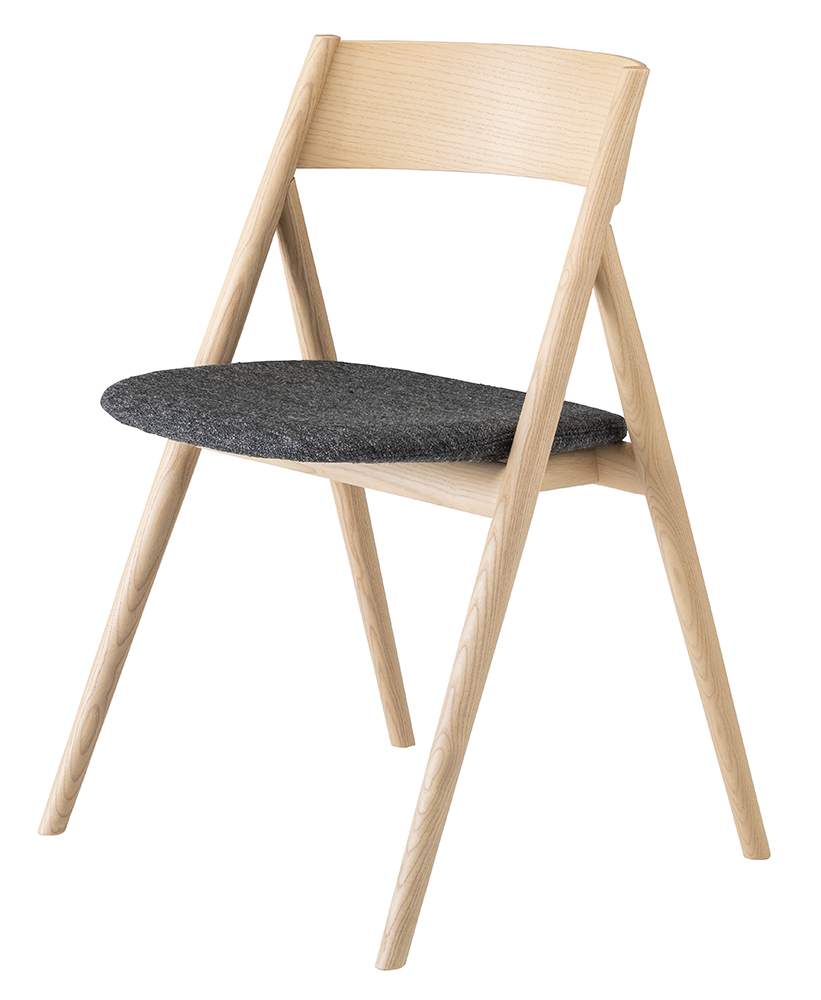 TANGO
Lightweight and easy to move, this model is highly versatile for home dining, desks, and public spaces. The large curve of the back is designed so that you will not get tired even if you sit for a long time.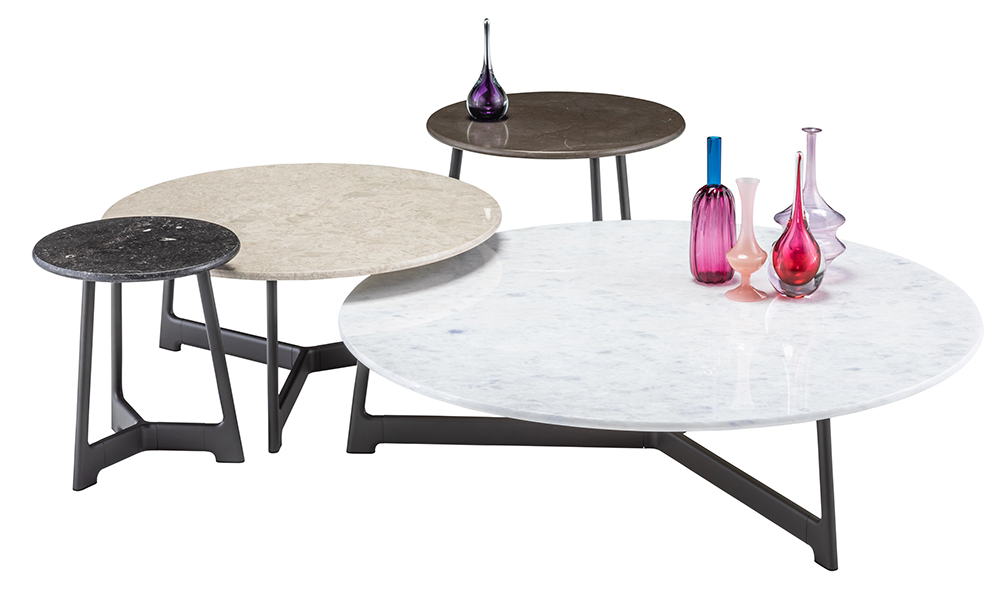 S.21
The delicate aluminum die-cast legs and the solid marble top plate material fit the trend. In the large living room, you can enjoy the coordination of multiple units.